My Real-Life Social Media Success Story
Yesterday, Day #19 in our 90-Day Social Media Success Challenge for Dance Studios, we made a huge announcement about our new website and social media resource center for dance studios, Kiner Dance Studio Success! Today, Day #20, I'm still feeling so much excitement about it (And a little exhaustion too. I haven't slept much as we've been preparing for this launch.)! It's been in the works for a long time, and to see it all finally come together, and be able to offer something to you, our readers, that's never been done in the dance world before, is really rewarding.
For today's post, I'd like to just share a bit about myself, and tell you about how Kiner Dance Studio Success came about. If you're wondering how this applies to our 90- Day Social Media Success Challenge, I would say this. The "social" aspect of social media need not be ignored. People want to get to know people, and not only read about biz updates, promotions, and discounts. They want to get to know you too. So, here's a little bit about my social media success story…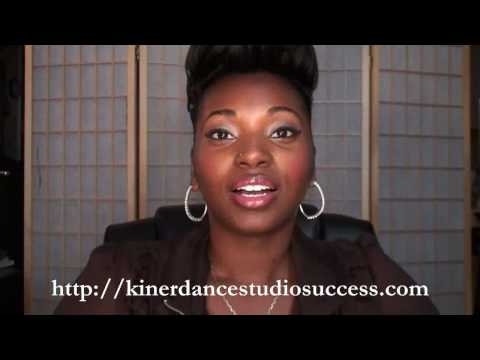 Just like many of you, when I first started my business, Kiner Enterprises Inc., three years ago, I struggled to find affordable methods of advertising and promoting my company's services. I primarily relied on traditional forms of marketing i.e., mass mailings, flyer/postcard distribution, cold calls and e-mails, Google Adwords, and various online ads. These methods were very costly, and tiresome, and very limited in the scope of their true financial results for my business. I knew that I needed to promote and market my business, but I wasn't sure how I could do it, and not break the bank.
So I got involved in social media. A free and easy way for me to connect with current and potential customers, for free! I started this blog, and opened up Facebook, Twitter, Linkedin, and Myspace accounts, to get started. I read a lot of articles, listened, watched, did research, and through experience, and over time, I learned how to use social media effectively and successfully to grow my business, promote our services, and expand our brand. We went from a small, New York City Dance Instructor staffing agency, that not too many people knew about outside of the New York Metropolitan area, to a National, Dance Instructor Staffing and Social Media Coaching firm for dance studios and dance businesses.
We launched the first ever online dance studio contest called, The America's Best Dance Studio Contest, all about showcasing excellence in dance studios across America, which received national acclaim, and sponsorship from some of the biggest names in the dance industry. There were over 11,000 votes in the contest's second year!
And now, we've launched a new website, Kiner Dance Studio Success, the 1st online social media success resource center for dance studios! Wow, I honestly never imagined that I'd come this far back when I had approximately 3 followers on Twitter, and 5 Facebook fans!
I've also had the pleasure of contributing to, and being featured on prominent blogs for dance, such as; Dance.com, Danceadvantage.net, The Grosh Backdrops and Drapery Blog, and the Backdrops Beautiful blog, to name a few. I've also recently contributed three articles, for members only, on DanceStudioOwner.com.
All of this is because of successful social media relationship-building, brand-building, and strategic, valuable, content development.
At this point, I feel blessed and honored to be able to give back, and now take what I've learned about social media, and share it with others. I'm humbled to now be able to help the many hard-working dance studio owners out there share what makes their studio unique, and help all of you to become more successful, through the use of social media.
I hope you'll become a Kiner Dance Studio Success Member today. It's free to join. I've done all the work, so you don't have to. Be blessed! http://kinerdancestudiosuccess.com
Ashani Mfuko
CEO/President
Kiner Enterprises Inc.
Post your comment here!
Tags:
America's Best Dance Studio Contest
,
Backdrops Beautiful
,
dance studio
,
dance studio marketing
,
Dance.com
,
danceadvantage.net
,
dancestudioowner
,
dancestudioowner.com
,
Facebook
,
Grosh Backdrops
,
how to promote a dance studio
,
Kiner Dance Studio Success
,
Kiner Enterprises Inc.
,
marketing
,
Media
,
national dance week
,
promotion
,
Small Business Marketing
,
So You Think You Can Dance
,
Social Media
,
Social Media for Dance
,
Social Media for Dance Studios
,
social media success for dance
About The Author
Ashani C Mfuko
Ashani Mfuko is a Social Media Strategist, Digital Marketing Specialist, Award-Winning Blogger, and Professional Dancer. Ashani works with small businesses, corporations, & non-profit organizations as a Social Media Strategist and Digital Marketing Specialist. She creates results-driven, innovative social media strategies that are proven to increase your revenue and catapult your brand to expert status in your niche! She has an extensive track record of creating and implementing successful social media strategies for her clients. She is also the Host and Executive Producer of the "Inside New York City Dance" television show on MNN, and is a proud wife and new mom. Ashani has been featured in Dance Magazine, as a "Media Maven", as well as in Dance Mogul magazine, Inside Woman magazine, & Dance Studio Life magazine, in addition to various dance blogs online. She is the author and creator of the, "Finance Your Dance: How To Turn Your Passion Into Profit" e-book and workshop, and her dance blog won the Reader's Choice, "Top Dance Business Blog" of the year award, two years in a row. She is a leader in the field of social media and digital marketing, and is highly sought after as a dance performer and dance teacher in the New York City dance community. Ashani is on staff at the Joffrey Ballet School in New York City, and teaches Advanced Jazz classes for their Jazz & Contemporary program & Ballet program.