Food for Thought Friday – Foursquare Tips, Plus How To Stay Fit
This past Tuesday was the world premiere of our new internet radio and Ustream.tv show about the dance biz, which airs live from New York City every Tues. night from 7-8 pm. This week, we had two special guests who shared some really fantastic tips and advice. So I decided to give you some of the highlights from Tuesday's show, in case you missed it.
Miss United States 2008, Graziella Baratta, shared her top 5 tips to help dancers stay fit for life.
Here they are:
1) Visit Your Doctor. It's important to visit your doctor to find out if you have any food allergies or thyroid problems that could possibly be affecting your health or your weight.

2) Eat For Energy. Eat meals that are high in protein and complex carbs (i.e. brown rice, whole grains, etc.). Eat 2 to 3, high-protein snacks in between meals, throughout the day. Eat Natural foods and products (the less processing, the better), and use natural sweeteners like Stevia, Xylitol, and agave nectar to sweeten up your meals or snacks.
3) Schedule "Me" Time Workouts. It's necessary to have a regular exercise regime OUTSIDE of the dance classes you teach, or your own dance rehearsals. Dancers' bodies can become immune to a certain level of exercise (i.e. teaching dance classes, dance rehearsals), when you do the same thing over and over again, for an extensive period of time. She recommended scheduling "Me" time workouts, which is when you focus on a workout, that's specifically for your own body conditioning.

4) Know Your Body – Petite vs long and lean vs hourglass shape. Dancers tend to be more muscular than the average person. Some people's bone mass is larger or heavier than others. So it's important for you to know your body (type), and plan your diet and fitness routine accordingly.
5) Treat Yourself (in moderation). No one can eat 100% healthy, 100% of the time. When you have an occasional craving for something not-so-healthy, don't feel guilty about indulging in it. Just get back on track for the rest of the day, or the next day. No worries.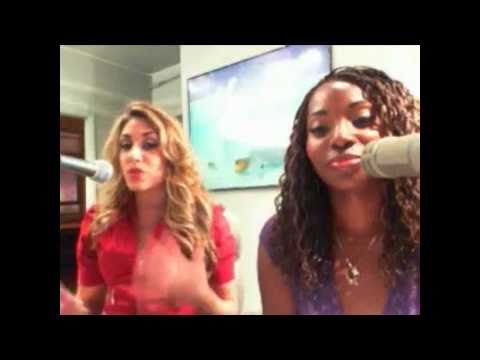 Director of Sales and New Media Marketing at Grosh Backdrops, Lindsay Fultz, was also a special guest on the show. Lindsay offered some fantastic tips for dance studios and other businesses to maximize Foursquare to promote and grow their businesses. Here are the highlights:
– Partner up with complimentary businesses, and provide your customers with all of the resources that they'll need by leaving tips on your Foursquare page, with recommendation or discounts to those complimentary businesses you've partnered up with.
– Be persistent and relentless because getting approval from Foursquare for your dance studio's or company's Foursquare promotion can sometimes take months.
– Many people are still inclined to "check-in" because of the opportunity to gain badges and mayorships which  are so fun to win, even for businesses who don't currently offer promotions or discounts.
– Create real incentives for your customers to check-in and share their check-ins on Facebook and Twitter, and it can have tremendous benefits for your dance studio or business.
Watch the full show by clicking here!
Learn How To Add Foursquare to your Facebook Fan Page here!
Post your comment here!
Tags:
Dance Fitness
,
Dance Wellness
,
Dancer Health
,
fitness tips for dance
,
Fitness Tips for dancers
,
Foursquare for dance studios
,
Foursquare tips
,
Graziella Baratta
,
Grosh Backdrops
,
how to use Foursquare for dance
,
Let's Talk Dance With Ashani Mfuko
,
Miss United States
,
Social Media for Dance
,
Social Media for Dance Studios
,
The Kiner Hour
About The Author
Ashani C Mfuko
Ashani Mfuko is a Social Media Strategist, Digital Marketing Specialist, Award-Winning Blogger, and Professional Dancer. Ashani works with small businesses, corporations, & non-profit organizations as a Social Media Strategist and Digital Marketing Specialist. She creates results-driven, innovative social media strategies that are proven to increase your revenue and catapult your brand to expert status in your niche! She has an extensive track record of creating and implementing successful social media strategies for her clients. She is also the Host and Executive Producer of the "Inside New York City Dance" television show on MNN, and is a proud wife and new mom. Ashani has been featured in Dance Magazine, as a "Media Maven", as well as in Dance Mogul magazine, Inside Woman magazine, & Dance Studio Life magazine, in addition to various dance blogs online. She is the author and creator of the, "Finance Your Dance: How To Turn Your Passion Into Profit" e-book and workshop, and her dance blog won the Reader's Choice, "Top Dance Business Blog" of the year award, two years in a row. She is a leader in the field of social media and digital marketing, and is highly sought after as a dance performer and dance teacher in the New York City dance community. Ashani is on staff at the Joffrey Ballet School in New York City, and teaches Advanced Jazz classes for their Jazz & Contemporary program & Ballet program.