Tonight On The #LetsTalkDance Tweetchat: #WhyDanceMatters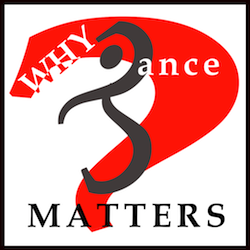 Exactly ten years ago, I was working for a local union in New Jersey as a Union Organizer. I was working in the office, and out in the field, 40-60 hours a week, with a comfortable salary, a company car, medical and dental benefits, a 401K, the works! Although I enjoyed helping workers to get fair wages, benefits, and be treated better by their employers, there was a part of me that was still unsatisfied, because I wasn't dancing…at all.
In November of 2002, my best friend, my #1 supporter, and the love of my life passed away. That was my dad. He died of a massive heart attack, literally out of nowhere. His death rocked my world, to say the least. But after his passing, I remembered that one of the last conversations we had was him asking me when I was going to start dancing again. See, he was my biggest supporter when it came to my dancing, and he knew how passionate I was about having a career as a dancer. Frankly, he helped put me through college, where I received a B.A. in Dance (and also in Hispanic Studies).
So, as I thought about one of our last conversations, and how much I was really missing dance, I made a major career change. Within 60 days after my dad's passing, I'd left my job, moved back to New York City (where I was born), and began my journey as a professional dancer.
#WhyDanceMatters to me is because, it has helped to save my emotional life, time and time again. Through many struggles, hardships, ups and downs, dance has always gotten me back in touch with what an amazing feeling it is to simply be alive, and experience the joy of movement.
Tonight, on our weekly #letstalkdance tweetchat, we're going to discuss why dance matters to you, and we're all going to share our personal experiences about how dance has affected our lives, and brought joy, healing, and hope to us.
Join the chat tonight on Twitter, from 10-11 pm EST, and please spread the word.
You can learn more about our weekly #letstalkdance Tweetchat here.
Learn more about the wonderful #WhyDanceMatters virtual event on their website here, or on the Dance Advantage blog here.
Please share this post on Facebook, Twitter, and Linkedin, and let's celebrate #WhyDanceMatters!
Post your comment here!