How The Dancer's Alliance and New York Dance Collective Are Changing Wages and Working Conditions For Dancers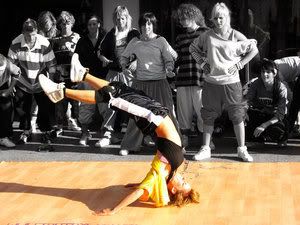 Professional dancers have struggled for many years to garner the same amount of respect, wages, and working conditions, as others in the performing arts profession. Actors, Musicians, and other media professionals all have their own unions to represent their interests and set the standards for their working conditions and pay rates. Why dancers, who work the hardest, given the extensive training, physicality, and risk of our work, have ended up so low on the totem pole, without representation for so long, I do not know.
I recently saw the video below posted on Facebook by the Dancer's Alliance and AFTRA, at their recent launch party, and was excited to see dancers mobilizing and organizing, as a community. They are beginning to make some significant, positive changes for professional dancers, and are helping to create the type of professional life and benefits that we deserve.
Dancers' Alliance is an organization created by dancers to standardize non-union work. D.A. rates are minimums imposed by dancers and agents to protect dancers' wages and working conditions that are not covered by union jurisdiction. D.A. is not a union. Their rates are most effective and attainable if dancers know them and make an effort to attain them on every job. You don't need to have representation to apply their rates to your work. View the Dancer's Alliance  working conditions and rates sheet here.
Another great initiative that I found out about through Facebook (thank God for social media!), is the New York Dance Collective. New York Dance Collective's mission is to build the unity in the New York dance community by being an outlet for dance empowerment, education and value, both as an industry and as individuals. Through a collective journey they will achieve higher standards, increased career opportunities, and protection of wages and work conditions.
They are holding their second meeting this Friday evening at Ripley-Grier Studios at 7 pm,  here in NYC, and I'm excited to attend, and learn more about this organization, and how I can help support my local dance community. I will be sure to share some feedback with you on what is discussed at this meeting.
Learn more about the New York Dance Collective here.
We just entered the "Reader's Choice Top Dance Blogs of 2010 Competition". Please leave a comment, by clicking HERE, so that we may be eligible to win this title. Thank You In Advance!
Post your comment here!
About The Author
Ashani C Mfuko
Ashani Mfuko is a Social Media Strategist, Digital Marketing Specialist, Award-Winning Blogger, and Professional Dancer. Ashani works with small businesses, corporations, & non-profit organizations as a Social Media Strategist and Digital Marketing Specialist. She creates results-driven, innovative social media strategies that are proven to increase your revenue and catapult your brand to expert status in your niche! She has an extensive track record of creating and implementing successful social media strategies for her clients. She is also the Host and Executive Producer of the "Inside New York City Dance" television show on MNN, and is a proud wife and new mom. Ashani has been featured in Dance Magazine, as a "Media Maven", as well as in Dance Mogul magazine, Inside Woman magazine, & Dance Studio Life magazine, in addition to various dance blogs online. She is the author and creator of the, "Finance Your Dance: How To Turn Your Passion Into Profit" e-book and workshop, and her dance blog won the Reader's Choice, "Top Dance Business Blog" of the year award, two years in a row. She is a leader in the field of social media and digital marketing, and is highly sought after as a dance performer and dance teacher in the New York City dance community. Ashani is on staff at the Joffrey Ballet School in New York City, and teaches Advanced Jazz classes for their Jazz & Contemporary program & Ballet program.