Facebook Branding 101 For Dance Artists – Your Checklist
The power of Facebook lies in the power of likes, shares, and comments. You want every update that you make on Facebook to inspire your fans to click on "Like", to share, and/or comment. Why is this so powerful? Because every time a person likes, shares, or comments on your page, it shows up in their Facebook news feed for all of their friends to see. So instead of only your fans seeing your post, you can reach hundreds or thousands of other people on Facebook, through likes, shares, and comments, and also get more "likes" as a result.
Facebook 101 For Dance Artists
Here are 5 Tips To Get You Started On The Right Foot:
* Separate Your Personal Profile & Create A Facebook Fan Page For Your Brand. Hopefully, you've already done this. But if you haven't, now is the perfect time to do so. You want to create a differentiation between your personal updates, and those that are most relevant and appropriate your your brand.
* Fill out ALL of Your Information. Every Facebook fan page has an "About" section. Take full advantage of the opportunity to provide detailed info about your brand to your potential clients and contacts on Facebook. Fill in as much information as possible, and don't forget to include your website, and contact information. This is SUPER important!
* Add A Fabulous Cover Photo. Your cover photo goes at the top of your page, above your profile picture and all of your tabs. Make sure it makes a strong statement, and resonates with your brand's mission, and values. Make it personal, and make it powerful. 20% can be text. The rest, images.
* Mix Up Your Fan Page Updates with: statements and quotes that represent your brand's mission and values, interesting and fun photos, videos, relevant articles and blog posts, and inspirational messages. Only 20% of your fan page updates should be promotional or selling something related to your brand. The other 80% should be content that is relevant, helpful, valuable, interesting, and inspiring to your target audience.
* Update Your Page Often. There is no magic number for updates. It varies for different people and brands. However, I recommend a minimum of 7 updates per/day, which is reasonable, especially if they're spread out throughout the day and evening, and are all different types of posts. However, I have tried something else that works really well, based on some advice from one of my virtual mentors, Sandi Krakowski. Sandi has over 100,000 Facebook fans, and Twitter followers, and she recommends updating your page once every hour. Now this may sound excessive to you, but she clearly knows what she's talking about. I have tried her method, and it definitely works. It increases your page's engagement, which ultimately leads to more likes, more leads, and more sales. But try for yourself, and see what works for you.
Plus some Facebook don'ts:
*Don't tag people all willy nilly on Facebook, especially if it's in photos and videos that they are not in!! Be easy! Once in a while is fine. Every day? Not cool.
*Don't invite people to your events who do not live in your area, and will more than likely not be able to attend your event. If you'd like for your fans/friends outside of your area to share the event, to help get the word out, cool. Ask them to share it, when you post it on Facebook or Twitter. But, sorry folks, if your event is in Cambodia, and I'm in NYC, chances are, I'm not going, and I don't need or want an invitation. Just sayin'.
*Give credit where credit is due. Don't post quotes or photos on social media without giving credit to the person who said the quote, or to the photographer and person in the photos.
Here's a quick video tutorial on how create a fabulous Facebook cover image for your fan page in 5 mins. or less!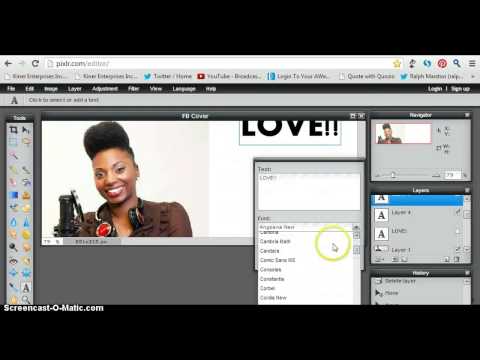 For more free tips, advice, and resources for dancers,  join our mailing list HERE!
If you found this post helpful, please share it with your friends on social media, and post a comment below. I'd love to hear from you!
Post your comment here!
About The Author
Ashani Mfuko
Ashani Mfuko is a Social Media Strategist, Digital Marketing Specialist, Award-Winning Blogger, and Professional Dancer. Ashani works with small businesses, corporations, & non-profit organizations as a Social Media Strategist and Digital Marketing Specialist. She creates results-driven, innovative social media strategies that are proven to increase your revenue and catapult your brand to expert status in your niche! She has an extensive track record of creating and implementing successful social media strategies for her clients. She is also the Host and Executive Producer of the "Inside New York City Dance" television show on MNN, and is a proud wife and new mom. Ashani has been featured in Dance Magazine, as a "Media Maven", as well as in Dance Mogul magazine, Inside Woman magazine, & Dance Studio Life magazine, in addition to various dance blogs online. She is the author and creator of the, "Finance Your Dance: How To Turn Your Passion Into Profit" e-book and workshop, and her dance blog won the Reader's Choice, "Top Dance Business Blog" of the year award, two years in a row. She is a leader in the field of social media and digital marketing, and is highly sought after as a dance performer and dance teacher in the New York City dance community. Ashani is on staff at the Joffrey Ballet School in New York City, and teaches Advanced Jazz classes for their Jazz & Contemporary program & Ballet program.